The Central Bank of Kenya (CBK) has credited the move to raise its lending rate by 0.5 per cent to inflation and other global economic factors.
In a statement dated Wednesday, November 23, CBK's Monetary Policy Committee (MPC) announced that it had raised its lending rate from 8.25 per cent to 8.75 – a move that could see Kenyans pay higher interest rates for loans.
The rates will apply till January 2023. However, CBK noted that it would keep monitoring the economy before then.
"The Committee noted the sustained inflationary pressures, the elevated global risks and their potential impact on the domestic economy and concluded that there was scope for a further tightening of the monetary policy in order to anchor inflation expectations," read the report in part.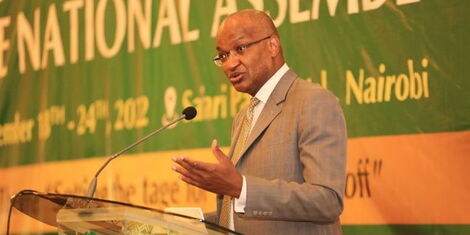 CBK Governor Patrick Njoroge addresses MPs at the Safari Park Hotel on Monday, September 19, 2022.
National Assembly
Further, CBK cited agricultural products that have contributed to the inflation witnessed in the last month.
Food inflation rose to 15.8 per cent in October from 15.5 per cent in September.
"This was largely due to prices of maize and milk following reduced supply attributed to depressed rains, and edible oils and wheat products due to the impact of international supply chain disruptions.
"Fuel inflation increased to 12.6 per cent in October from 11.7 per cent in September, mainly due to the scaling down of the fuel subsidy, increases in electricity prices due to higher tariffs, and increases in transport costs," read the report in part.
Nonetheless, the monetary team expressed confidence in the economy with key sectors such as imports and hospitality recording positive reports.
"The economy is expected to remain strong in the last quarter of 2022, supported by the services sector despite subdued performance in agriculture and weaker global growth," CBK stated.
This is the second time that CBK has raised its lending rate.
In September CBK raised its rates from 7.5 per cent to 8.25 per cent. This saw banks raise their interest rates by 1.1 per cent.
As is the norm, commercial banks borrow from CBK  and in the event, they are charged higher rates, the cost has to be cascaded down back to Kenyans through loan interest rates.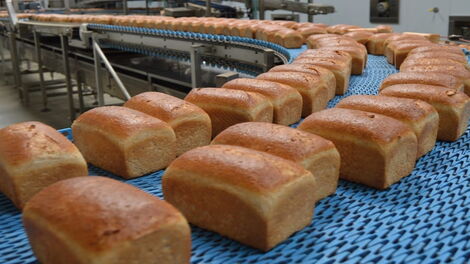 Loaves of bread being baked at a bakery
Twitter
Source: kENYANS.CO.KE