Murang'a governor, Irungu Kang'ata, received a sum of Ksh12.5 million over stories published in 2021 by stations owned by Royal Media Services (RMS) and Mediamax Limited. 
The two media houses and the county chief arrived at an out-of-court settlement that saw RMS and Mediamax agree to pay Ksh6 million and Ksh6.5 million respectively.
Kang'ata alleged that the two media houses aired news articles that legitimised a falsehood that tainted his reputation.
In documents seen by Kenyans.co.ke, RMS first paid Kang'ata in two cheques of Kshs900,000 and Ksh600,000.
Murang'a Governor Irungu Kang'ata speaks at Gatura AIPCA church on February 28, 2021
File
"Please find for onward transmission to your client. Please let us have the receipt. The next payments will be made through the bank details provided," RMS wrote to Kang'ata through its lawyers. 
Mediamax Ltd on the other end remitted the settlement sum of Ksh6,500,000 in Kang'ata's bank account,
"Kindly confirm receipt of the funds to enable us advise our Client. Further, enclosed is consent letter in duplicate duly executed on our part marking this fully and finally settled with no orders as to costs for your execution.
"Kindly give the bearer of this letter a signed copy of the consent letter to return for our immediate filing in court and supply of a filed copy to our client. We will share a filed copy for your record too," Mediamax which runs K24 TV and Kameme FM stated through its lawyers. 
Kang'ata's lawyers had argued that the clips shared by the media outlets on September 15, 2021 were deliberately doctored.
The media houses previously defended the publications, stating that they had no malicious intent towards the character of the county leader and operated in good faith.
However, they were accused of manipulating Senate proceedings that gave a false voice over which created the impression that he was speaking from a compromised location.
Kang'ata then appealed to former Senate speaker, Ken Lusaka, to summon the concerned media editors to appear before the House Power and Privileges Committee for remedial action. 
He also alleged that he provided the stations with uncorrupted clips of the proceedings, urging them to pull down the offensive, edited ones. 
Dr Kang'ata filed a suit at the Milimani Magistrates court, against the media houses for allegedly painting him in negative light and injuring his reputation as a leader and family man.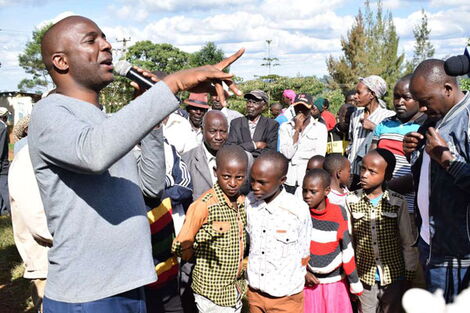 Murang'a Governor Irungu Kang'ata addresses residents during a free medical camp in Kangema, Murang'a County, on June 26, 2017
Daily Nation
Source: kENYANS.CO.KE