Renowned lawyer and Pan-Africanist, Patrick Loch Otieno (PLO) Lumumba filed a complaint with Facebook's chief executive officer, Mark Zuckerberg, after his personal account and page were hacked. 
In the letter seen by Kenyans.co.ke, PLO lamenting losing his account with 945,000 followers. 
Lumumba further claimed that the account was hacked between Friday, November 18, and Sunday, November 20, 2022. 
"The hacker logged and changed the access for the business account and replaced three of my social media administrators and proceeded to add fifteen other administrators from different parts of the world,"  read the letter in part.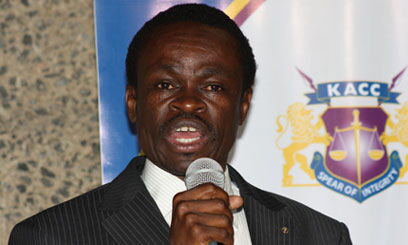 A file image of Patrick Lumumba delivering a speech when he served as Director of Kenya Anti Corruption Commission
FILE
He called for Zuckerberg's immediate intervention and subsequent crackdown on the hackers. 
"I am disappointed by the unresponsive META – Facebook's parent company – team over the last three days that continues to deprive my followers of our daily interaction on matters Pan African," Lumumba lamented. 
According to the scholar, advertisements were made on his page, whose language was also changed from English. 
Lumumba went ahead to list a number of demands that he would like Zuckerberg to address to restore his account's ownership. 
"Instruct your team to urgently retrieve my page without further delay and reinstate the three authorized and approved administrators who are responsible for managing my page," demanded Lumumba.
Furthermore, the Pan-Africanist also asked the tech giant to have the email address on the page changed to his personal one.
"Remove all other 15 administrators that have been added but the hacker on the Facebook page and the business account," he asked. 
Lumumba also urged his followers to avoid responding to any communication from the account or clicking on links on the page until the issue is resolved. 
A file image of Kenyan lawyer and orator Patrick Lumumba during a past court session
FILE
Source: kENYANS.CO.KE