Embattled Meru Governor Kawira Mwangaza dared Members of the County Assembly (MCAs) to push through with their impeachment motion seeking to oust her from office.
Speaking during an engagement forum at Githongo Vocational Training Centre on Wednesday, November 23, Mwangaza maintained that the ouster debacle would help her administration debunk issues of contention with Meru MCAs.
The governor dismissed accusations of misusing her office to perpetuate tribalism in Meru County.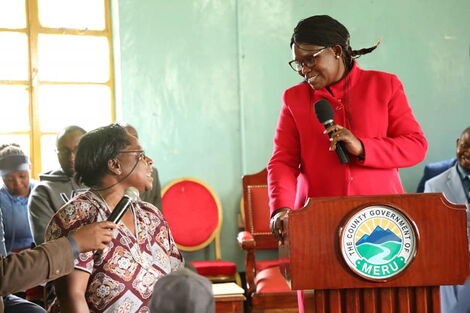 Meru Governor Kawira Mwangaza during a meeting with residents on Wednesday, November 23, 2022.
Kawira Mwangaza
"Lawyers will deal with other lawyers. The truth will be known. The petition will allow us to shed light on the truth. This is the right time because all the allegations that have hired illegally would be finally be addressed.
"I want the electorates to know the truth, and this is the perfect opportunity for everything to come out, which will then set us free," Mwangaza insisted.
At the same time, Mwangaza dismissed reports that county operations had been halted by the impeachment motion. She assured residents that she was still executing her duties as Meru county boss.
"We are not working, and my government is still working. No function has been halted because of political distractions," former Meru Woman Representative remarked.
However, she pleaded with the Meru MCAs to support her administration to propel the development agenda in the region.
"My sincere appeal to the MCAs and other leaders in Meru County is that we join hands and work together for the benefit of the people who elected us because two are always better than one," Mwangaza pleaded.
Her sentiments came a day after 68 out of 69 MCAs passed a motion tabled by Abogeta West Ward MCA Denis Kiogora seeking her removal from office.
Only Kiagu ward MCA Simon Kiambi failed to approve the motion supporting Mwangaza's impeachment.
"I did not pass the motion since my people from Kiagu ward did not agree with impeaching the governor," the MCA explained after the voting exercise.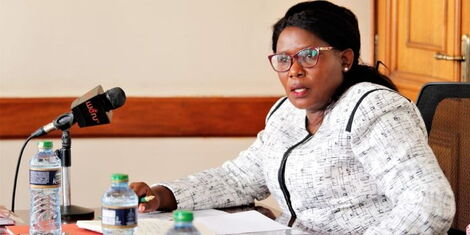 Meru County Governor Kawira Mwangaza addresses a meeting with Meru County officials on November 4, 2022.
Facebook
Kawira Mwangaza
Source: kENYANS.CO.KE