Deputy President Rigathi Gachagua has come to the aid of embattled Governor Kawira Mwangaza who is at loggerheads with members of the Meru County Assembly.
Speaking during a church service in Embu on Sunday, December 4, Gachagua assured Mwangaza that he and President William Ruto would organise a sit-down with the county leadership.
This came after the county boss pleaded with Ruto to intervene in the escalated wrangles with the governor staring at a possible impeachment.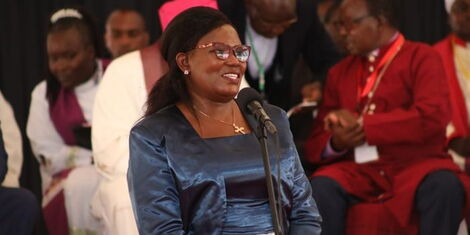 Governor Kawira Mwangaza during an interdenominational service in Meru County on Sunday, December 4, 2022.
Kawira Mwangaza
"The president and I will not allow for any issues to stop the development in Meru. Ruto has agreed that we will have a sitting with the governor, senator, MCAs and Members of Parliament (MPs) so that we make peace," Gachagua stated.
Mwangaza, who addressed the congregation earlier, likened her situation to the biblical story of David and Goliath and asked for help from the head of state.
"I remember in 2011, we gave him a name: Marete, which means one who brings. It is my prayer that God touches President Ruto and uses him to bring peace to Meru county," she remarked.
On his part, Ruto called on the leaders from the region to unite and rally behind Mwangaza and her Embu counterpart Cecily Mbarire, whose election was challenged by Lenny Kivuti. The case was later dropped.
"I would like to ask the MCAs to lead and organise Embu county so that it can make steps forward. And to our governor, I will not let you fall.
"I will stand by you and fight with you but when you go astray, just know that I will be watching," the President remarked.
On November 30, Mwangaza was granted some reprieve in the tussle against the MCAs after an impeachment motion filed against her was thrown out.
The judge stated that the ward representatives did not follow the due procedure and in doing so, infringed on her rights.
After the court directive, the governor made a unique apology, publicly saying "sorry" 70 times to the 69 MCAs and  1 county assembly speaker.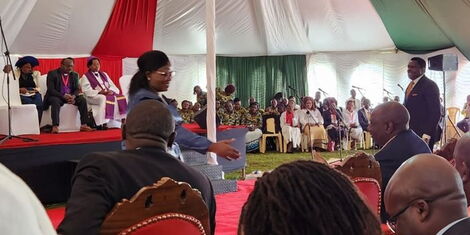 Governor Kawira Mwangaza shakes hand with President William Ruto during an interdenominational service in Meru County on Sunday, December 4, 2022.
Kawira Mwangaza
Source: kENYANS.CO.KE