Deputy President Rigathi Gachagua on Monday, November 28, 2022 launched a Paybill number for Kenyans to make donations.
The Paybill was created by Drought Response Committee to rally every Kenyans towards supporting millions of people hit by drought across the country.
"The National Drought Response Steering Committee has released the Paybill and bank account details that will allow Kenyans to donate cash to assist those impacted by the ongoing drought," Gachagua told Kenyans in a statement.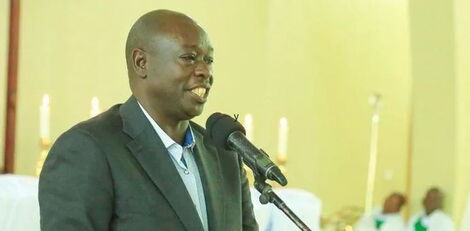 Deputy President Rigathi Gachagua addresses the congregation at Christ the King Cathedral, Bungoma, on Sunday, August 28, 2022.
Twitter
Gachagua announced that the given Paybill can be used by mobile subscribers of all telecommunication companies in the country.
"Donations to the appeal fund can do so via: M-PESA PayBill 880990 USE YOUR NAME as the account number."
"You can also donate through bank account National Drought Mitigation Appeal Fund Kenya Commercial Bank, Riverside Branch, ACC. NO. 1305486137," he added.
He further thanked Kenyans and other people of goodwill who have continued to donate food and cash to help mitigate drought.
"We thank Kenyans and all our friends for their continued support towards this course," he wrote.
On November 26, Gachagua announced that Kenyan Defense Forces (KDF) and National Youth Service (NYS) officers will be contributing part of their salary to help starving Kenyans.
"Our men and women in the KDF have offered to forgo a one-day salary to contribute to the drought response kitty," Gachagua announced then.
He then went ahead to urge all Kenyans to emulate the disciplined forces and donate part of their salaries.
"We appeal to Kenyans in food surplus counties to help contribute to drought-affected areas.
 We appeal to Kenyans of goodwill to contribute a percentage of their salaries to a pay bill number that will be established soon to contribute to the drought response kitty," he announced.
Kenya is experiencing its worst drought in 30 years with 20 out of 47 counties grappling with drought and famine.
Second Lady Dorcas Gachagua has also been leading in distribution of relief food donated by well-wishers.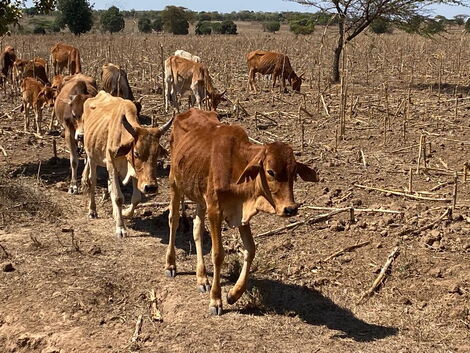 A picture of emaciated cows due to ravaging drought in Kenya
File
Source: kENYANS.CO.KE