On November 30, 2022, President William Ruto launched Hustler Fund, a loan facility meant for Kenyans to easily access credit business.
While majority of Kenyans received an average of Ksh500 loan, Ruto on December 4, announced that the loan limit will grow gradually grow to a limit of Ksh50,000 depending
Kenyans.co.ke looks at four businesses that are likely not to give you the best returns on Hustler Fund money: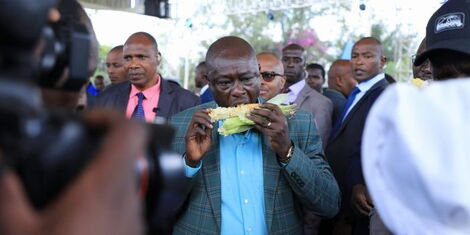 DP Rigathi Gachagua enjoys roast maize during the launch of the Hustler Fund at the Green Park terminus on Wednesday, November 30, 2022
Kenyans.co.ke
Ivy Nyawira
Milk Business
You can start milk vending business with as little as Ksh500. However, according to experts, this is a risky venture to start using the meager loan amount being advanced through Hustler Fund.
Prof XN Iraki, an associate professor at the University of Nairobi faculty of business and management sciences, explained that chances of attaining profitability from such venture are slim.
"The biggest problem with hawking business is hygiene; the money being advanced will not be able to sustain the level of hygiene needed in such business," Iraki explained.
"Milk is also highly perishable, if you do not sell it by the end of the day where will you take it?" he posed.
Fruit vendor
Iraki opined that fruit vending faces almost same challenges as milk vending.
"I advise Kenyans investing using the hustler fund to avoid any business that deals with perishables."
"If you do not sell them at the end of the day you throw them away making losses," he advised.
Buying stocks
While buying stocks is a good idea, it is not cut for someone depending on Ksh50,000  according to the professor.
"Buying stocks and shares sounds like a very good idea until you realize that the price of stocks has been going down, so if you buy them you are unlikely to get good returns," Iraki remarked.
The economist also held that the amount being given is too little to buy stocks that can make a difference in terms of profitability.
General shop
If a shop is on your mind, then you better think twice. Prof Iraki strongly dissuades Kenyans from investing in a kiosk after getting the loan.
"Many people are starting general shops, buying and selling is very predictable and people should research on things that are practicable," he warned investors.
"Find something unique like tailoring that does not have a lot of competition, it needs small investments and has high returns on investment," Iraki advised Kenyans looking to invest part of hustler fund.
The Hustler Fund was President Ruto's signature campaign pledge in the run up to the August 2022 elections, with the aim of empowering majority of Kenyans who are locked out business because of credit.
President William Ruto (centre) interacts with a trader in an exhibition during the official launch of the Hustler Fund at the Green Park Terminus on November 30, 2022.
Kenyans.co.ke
Ivy Claire
Source: kENYANS.CO.KE