What's in a suit? A classy look cut to a crisp and dyed to a uniform shade of either bleak grey or black colour. President William Ruto is known for his fashion sense- having his suits match the rhythm of his day-to-day activities. 
In particular, the lavish bespoke suit that he wore during his daughter, June Ruto's wedding- became the subject of conversation over his catchy attire. 
Dressed from head to toe, Ruto's attire was invigorating. The handiwork is credited to 32-year-old  Ashok Sunny, a renowned fashion designer who is setting the trend for crisp cutting bespoke suits.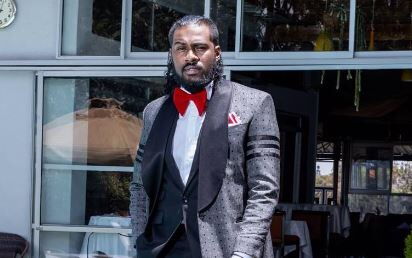 A file image of renowned fashion designer Ashok Sunny.
Facebook
While speaking to Weekly Review, he noted that the style of fashion involves starting from scratch where the client's measurements and posture are drafted onto brown paper using a tape measure, a set square, chalk, and a very keen eye.
"Made to measure is what the majority of tailors do in Kenya using machines, and he is what they describe as bespoke. But bespoke tailoring is the art of tailoring a garment from scratch to finish, by hand," he stated.
Due to the fine detail that goes into designing the suits, Sunny acknowledged that the masterpiece could take close to a month to finish an entire piece. 
"Anyone who claims to make a bespoke suit within a week is a con. From start to finish, the blazer will take you 50 hours, the trouser 25 hours, then you do over 5,000 hand stitches, finishing and fitting. At least three, four weeks for a quality garment," he noted.
The fashion guru, who began his business in 2013, did not envision that it would birth into an empire where he works with political leaders and celebrities.
At only 22 years of age, he began the tailoring business with a Ksh20,000 capital from his mother in Umoja estate, Nairobi County. 
However, currently, he has worked with the likes of former Director of Criminal Intelligence George Kinoti, billionaire Group CEO of Chandaria Group, Darshan Chandaria as well as image consultant Mwenesi Musalia. 
Price
The designs cost an average of Ksh60,000 to Ksh250,000, depending on the fabric. He, however, affirmed that he would make a Ksh1 million in one setting if the client requests cashmere fabric.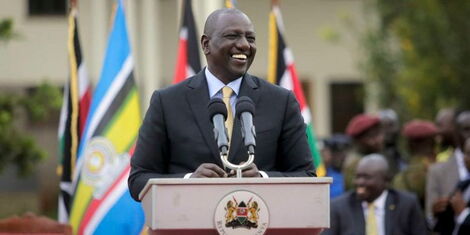 Kenya's president-elect William Ruto addresses the media at his official residence in Nairobi, Kenya. September 5, 2022.
Twitter
William Ruto
Source: kENYANS.CO.KE