Former Prime Minister Raila Odinga's youngest daughter, Winnie Odinga, has recounted the day the US Secret Service made a surprise visit to her room while studying at Drexel University in Philedephia.
Speaking during an interview on the Iko Nini podcast, Winnie revealed that the search by the Homeland Security officers was informed by the expected arrival of Raila who was to visit her at the school the following day.
She explained that her father was still serving as the Prime Minister at the time, further, detailing that the Secret Service was tasked with protecting Raila during his stay.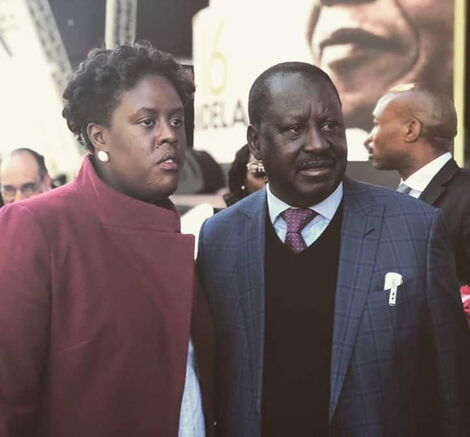 Winnie Odinga and her father Raila Odinga
File
"One month after settling in school, my father was to come and visit me. A day before, the Secret Service came to the dorm to check how everything was. The next day, my father came with a convoy to see me and they left.
"If a sitting Head of State or government goes to another country, they have to be protected because if anything happens to that person, you declare war," she stated.
Further, she recalled how things at the school changed for her revealing that she was summoned by the university president over her father's visit as many did not know that she was the daughter of Raila.
Winnie divulged that some of the students even asked if she was a princess because of the motorcade the father used during his visit to the institution.
"The following Monday, I was called by the school president and my recruiter asked me why I did not tell them what my father did. Well, I told them that I thought they knew.
"One of the American students came to us at a party and asked if I was the African princess because the story that was going around was that the convoy belonged to some African king."
Raila's daughter expressed that she always wanted to stay away from the limelight and the shadow of her father and opted to study in the US to create her own path.
"I was meant to go study in the UK but I did not want to go because at that time, he was still serving as the PM and I did not want anything to do with him or politics so I applied to America where I got a scholarship."
She stated that she was enrolled to study political science but opted to change the course after being cautioned by her mother- Ida Odinga.
Winnie graduated in 2013 with two degrees in Communication and International Business from the American University.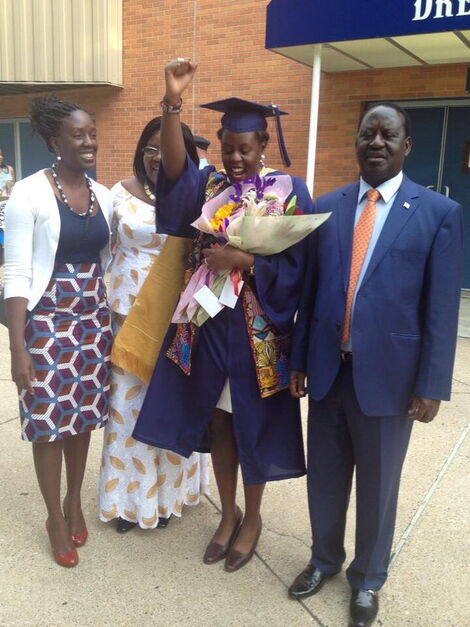 Former Prime Minister Raila Odinga's family posing for a photo during Winnie's graduation from Drexel University in 2013.
Twitter
Ida Odinga
Source: kENYANS.CO.KE