A campaign vehicle belonging to South Mugirango Member of Parliament, Silvanus Osoro, overturned with supporters on board.
The vehicle, branded with UDA colours and symbols, was filmed overturning at a junction in Kisii county while attempting to negotiate a bend at high speed.
Immediately after, members of the public rushed to the scene to rescue those who were on board. They were rushed to nearby health center for treatment.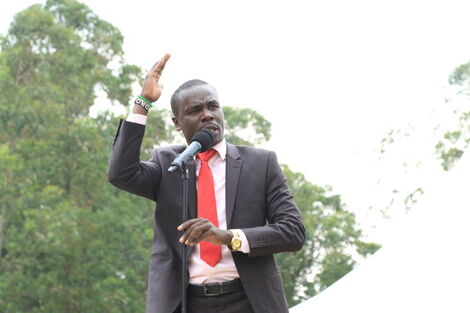 South Mugirango MP Sylvanus Osoro speaking at a past event.
The Standard
Preliminary reports indicate that some of the supporters who were involved in the accident sustained serious injuries even as one was trapped under the vehicle.
Police are yet to comment on the matter as investigations into the incident are said to be underway.
However, the video which went viral on social media, caused an uproar among Kenyans who called on the police to reign in on the use of vehicles during the electioneering period.
In a directive issued on June 1, government spokesperson, Col (Rtd) Cyrus Oguna, released guidelines for vehicles in campaign processions after it was noted that there was an increase in the number of accidents related to elective campaigns.
The government stated that it would hold vehicle owners to account for any contravention of the traffic rules.
"In the last few weeks, cases of road crashes, most of which have led to unnecessary loss of innocent lives, have been on the rise. It is noted with great concern that motorists and boda boda riders are exhibiting high levels of lawlessness, with total disregard for safety measures, particularly, while on the campaign trails, thus endangering not only their lives but also that of other road users.
"Motor vehicle owners have the responsibility of ensuring that their vehicles are roadworthy and the drivers are licensed. On their part, riders and motorists should drive within stipulated speeds and not to carry excess number of passengers," read the statement in part.
Early this month, there was public uproar after a vehicle in Borabu Member of Parliament, Ben Momanyi's campaign procession was filmed running over supporters who had gathered around the lawmaker's vehicle to listen to his address.
Consequently, Momamyi apoligised over the incident even as he stated that his team was working with the local medics to assist those who were hurt in the incident.
Government Cyrus Oguna speaking during a road safety awareness campaign along Mombasa Road on Friday, February 25, 2022
Government Spokesperson
Source: kENYANS.CO.KE