President William Ruto's inaugural speech at the United Nations General Assembly (UNGA) headlined the 77th session in New York.
Taking to the podium on Wednesday, September 21, Ruto delivered a seemingly flawless 30-minute address and appeared to have mastery of the issues he presented.
This, coupled with the fact that Presidents who spoke before him – Moldova's Maia Sondu, Namibia's Hage Geingob, Slovenia Borut Pahor – read from sheets of paper or tablets, sparked debate on whether or not he was using a teleprompter.
Kenyans.co.ke  is privy to the setup of the podium of the UNGA podium and can confirm that Ruto used a teleprompter and had not memorized the speech as argued by some people.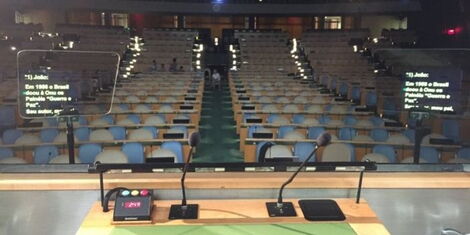 The set up of the podium at the 77TH UNGA at Manhattan, New York.jpg
Kenyans.co.ke
How the Teleprompter Works
A teleprompter is a device used in public addresses covered live, including during news bulletin, that enables individuals to deliver the a pre-written pronouncement, while maintaining eye contact with an audience or camera.
Its composition is majorly a projector and a beam splitter. The projector can be the screen of an iPad or tablet where the word document has been saved while a beam splitter is a special glass that reflects the image from the device.
Since the beam splitter is placed right before the camera, the individual delivering the speech can read the words, which are presented in a power point slide show,  while looking directly at the audience.
In the UNGA set up, President Ruto had at his disposal two beam splitters; one on the left and the other on his right. This explains his switching sides during his speech.
Nonetheless, it requires adequate practice for one to make an speech not to seen scripted.
The Debate
Kenyans took to social media to expressed their mixed reactions over the speech. While most of them were alive to the fact that he was using a teleprompter, they commended how he articulated his issues.
"Although President Ruto used a teleprompter to deliver his maiden address at the 77th session of the UN General Assembly, I think it was a good populist speech that highlighted on key issues relevant to mama mboga, mtu ya boda boda and East Africa. He did well there," media personality Jamal Gadaffi stated.
However, Alinur Mohammed insisted that the president made his address without any technological aide as he was conversant with the happenings of the world and had thoroughly done his homework.
"I refuse to be told and believe that President Ruto was reading from a teleprompter. Clearly there was none. Let's accept that President William Ruto was well prepared to deliver his maiden address at the 77th session of the UN General Assembly," he stated.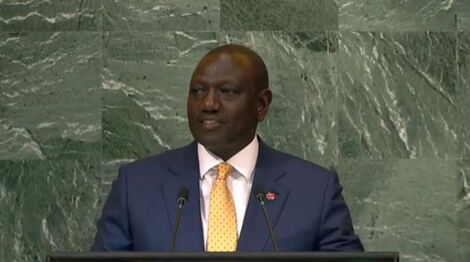 President William Ruto Speaks at UNGA event in New York on Wednesday, September 21, 2022.
PSCU
Source: kENYANS.CO.KE