President William Ruto has commissioned a housing project that will enable Kenyans to become homeowners by paying as little as Ksh6,600 per month.
Speaking in Nairobi's Mukuru slum on Monday, October 3, Ruto noted that under the affordable housing program, more than 200,000 units will be constructed across the country over five years.
The president explained that the houses will include one and two-bedrooms and payments will be made through mortgages.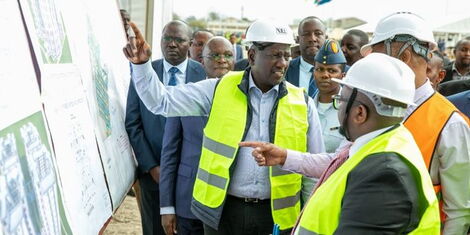 President William Ruto inspects a housing project in Mukuru, Nairobi on Monday, October 3, 2022.
PSCU
"For affordable housing, a one-bedroom will go for Ksh6,600 while a two-bedroom will go for Ksh10,000 and that is a mortgage, not rent. In 15-25 years, they will become homeowners of this country," Ruto stated.
However, he clarified that the allocation and sale of the houses would be based on priority, targetting especially those living in deplorable conditions.
In line with this, the President revealed a social housing plan specifically for the residents of Mukuru, which will see the construction of 13,000 housing units with 400 completed in the first phase.
"Mukuru has 110,000 households on 700 acres and so the first priority of this project is to get the people of Mukuru to come and leave here. The Ksh3,000  they are paying as rent will be used as part of the mortgage here.
"The bedsitters that will be available, complete with somewhere to sleep a small kitchen, shower, and a toilet will be Ksh3,000. A one-bedroom will go for  Ksh5,000 s and the two-bedroom will be Ksh6,5000," he explained.
Ruto pointed out that the residential facilities will be equipped with amenities such as schools, health centers, and markets. He added that a similar project would also be launched in Kibra constituency.
The Head of State intimated that his government had established the Kenya Mortgage Refinancing Company which would support the mortgage enterprise and handle the challenges that may arise in the house ownership program.
He asked the Members of Parliament (MPs) to pass the Housing Fund Bill to enable him actualize his dream of creating 2-3million home owners in the country in the next couple of years.
He revealed that a plan was in place to ensure that those employed with the government can use part of their pension to purchase houses under the affordable scheme.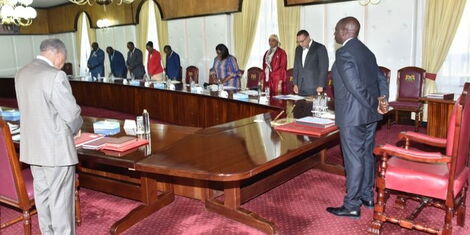 President William Ruto chairs a cabinet meeting at State House Nairobi on Monday, October 3, 2022.
William Ruto
Source: kENYANS.CO.KE