The Kenya Bureau of Standards (KEBS) has suspended 10 brands of cooking oil over health safety concerns.
Cooking oil brands that were affected by the directive issued by KEBS included Fresh Fri with Garlic Oil, Fry Mate, Bahari Fry, Fresh Fri, Gold and Pure Olive Gold, Postman, Rina, Salit, Tilly and Top Fry.
KEBS explained that the decision was reached after it sampled some of the cooking oil products.
However, it was noted that the suspension was temporary.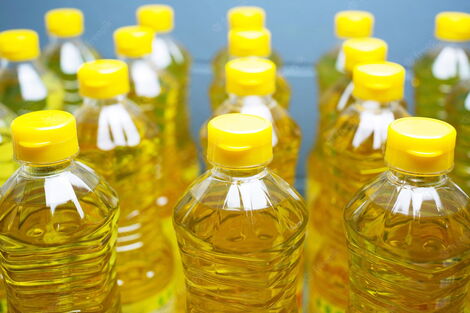 Cooking oil products on sale.
File
"The listed brands of non-compliant edible oils and fats that failed to meet the requirements of the standard: and to request your good office to notify your members to recall these brands and remove them from the supply chain from your members' outlets across the country.
"Kindly note that this is not a ban on the brands but a temporary suspension to facilitate the protection of consumers from potentially unsafe products, safeguard the economic interests of manufacturers of compliant brands and allow the manufacturers of the non-compliant brands to initiate and put in place effective corrective action under KEBS supervision," read the statement in part.
KEBS added that the cooking oils will only be allowed back to the market after meeting the required standards. 
Consequently, Kenyans were advised to check the quality of various cooking oils before purchasing the products.  
To this effect, KEBS detailed how Kenyans could certify that cooking oils had been approved by the body for consumption.
"One should send the code (numbers) underneath the Standardization Mark logo to 20023 (i.e. type message SM# Code or ISM#code, for local and imported products respectively, and SMS to 20023) to get product manufacturing details and permit validity status.
"If the details are different, invalid or not traceable to the platform, retailers should not purchase, stock or offer for sale the products but instead report to KEBS through toll-free number 1545 during official working hours 8 am to 1 pm and 2 pm to 5 pm from Monday to Friday," read the statement in part.
After the statement by KEBS, the Consumers Federation of Kenya (COFEK) advised Kenyans to avoid purchasing the brands until they rectified the anomalies.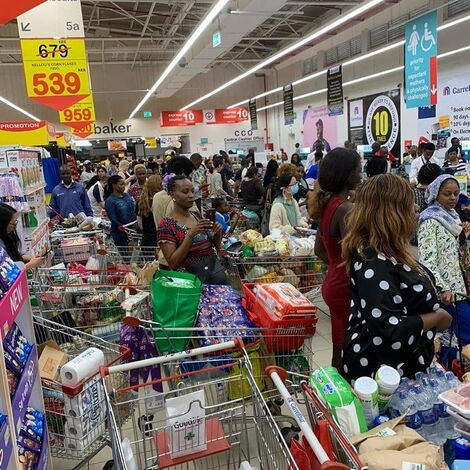 People flock a Nairobi supermarket for shopping on Friday, March 13, 2020.
Twitter
Source: kENYANS.CO.KE