A Kenyan nurse, Faith Newton, accused of swindling Ksh12 billion from America's healthcare sector, reportedly bought a Hollywood mansion valued at Ksh240 million.
Newton's castle, located in the affluent Massachusetts area, stretches out across six areas of lush green lawn. 
Constructed using red bricks to preserve the Industrial Revolution era, the mansion is 10,777 square feet. 
The building structure was designed by architects who take credit for building most pre-colonial homesteads in the US and the rest of the world.
Interior of the mansion bought by a Kenyan nurse in the US.
Patch
It has nine bedrooms with exquisite interior designs and architectural carvings, six fireplaces and four garages.
The house also has a gourmet kitchen equipped with state-of-the-art culinary features. The setup includes modern appliances and accessories that make cooking easy.
What standouts from the Ksh240 million mansion is a helicopter landing pad. Behind the house also exists a backyard overlooking a lake and a modern tarmacked road. 
American cable TV company, HBO, acquired the castle in 2013, making it their central shooting location. Among the movies shot in the house include Clear History which featured renowned American comedian, Larry David.
HBO vacated the castle compelling the owner to put it on sale. The place, nonetheless, remained unoccupied, with most US dollar millionaires shying away.
In 2016, Faith Newton made headlines by bidding to buy the most popular house in the US. She wired Ksh240 million to become the castle's new owner.
To match the stands of living in that mansion, she spent another Ksh18 million to buy Italian-made Maserati Granturismo.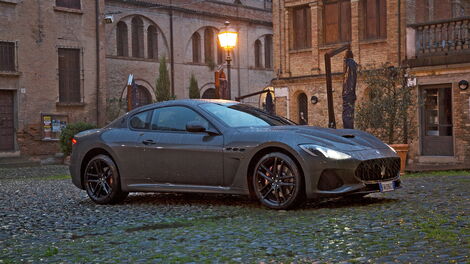 File photo of an Italian-made Maserati Granturismo parked outside a castle.
MotorTrend
By the time she bought the mansion, US detectives were closing in on her husband, who was also linked with another healthcare fraud scheme.
The family empire started scrambling when US Justice Department released a comprehensive statement Monday, February 1, 2021, linking Faith Newton and her business partner, Winnie Waruru to the Ksh12 billion healthcare scandal.
US Justice Department disclosed that the two established a health care facility which they allegedly used in money laundering.
"Newton allegedly used the laundered proceeds of the Ksh12 billion scheme to purchase multiple homes and a Maserati and to fund investment accounts, a lavish lifestyle and numerous financial transactions. The civil forfeiture case seeks to forfeit to the United States five properties in Westford, North Andover, Chelmsford and Dracut and to forfeit the contents of 40 bank accounts and/or investments," the statement read in part.
"The charges of health care fraud, conspiracy to commit health care fraud, money laundering conspiracy and money laundering each provide for a sentence of up to 10 years in prison, three years of supervised release," the charge sheet added.
Source: kENYANS.CO.KE