Vehicle inspection is a procedure undertaken by the national government to ensure that vehicles conform to regulations governing safety and carbon emission.

In Kenya, inspection is done at different times, periodically or when one intends to transfer the title of the vehicle.

Through the Motor Vehicle Inspection Unit, the National Transport and Safety Authority (NTSA) is mandated to conduct the exercise through its different centres.

The inspection process ensures that only road-worthy vehicles operate on Kenyan roads reducing risks of accidents, stalling and other related uncertainties.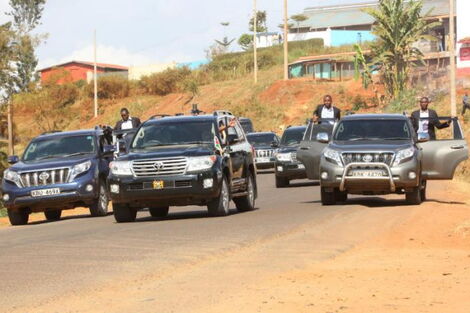 A fleet of high-end vehicles
File
Parliament introduced the Traffic (Amendment) Bill empowering NTSA to determine the intervals within which cars exceeding four years from the date of the manufacturer are inspected.
The Traffic laws at the moment dictate that every car that is more than four years old from the recorded date of manufacture shall be inspected by the Motor Vehicle Inspection Unit.
"Every vehicle that has been operated for a period exceeding four years from the recorded date of manufacture shall be subjected to inspection at intervals to be determined by the authority (NTSA)," the Bill states.
The inspection fees vary depending on engine capacity. Vehicles with more than 3000cc cost up to Ksh3,900. Trucks of up to five tonnes cost Ksh2,000. Private car owners pay between Ksh2,000- Ksh3,500.
Initially, the inspection fee was capped at Ksh1,000 irrespective of the car engine capacity.
Annual Inspection Booking Process
To book an inspection, one needs an NTSA TIMS account, an online self-service portal that enables Kenyans to apply and pay for vehicle registration, license renewals, and other services.
After login into the TIMS account, proceed to the vehicle inspection tab then click on the payment of inspection booking.
Identify the type of inspection then select annual.
Tick the right vehicle to book for inspection and then proceed to make payment.
The password recovery process is also outlined on the NTSA online portal for those who wish to reset. 
Go to the motor vehicle inspection service tab, click on forgot password, and set a new one.
After setting a new password,  one can then log in to their account and access services, including motor vehicle inspection.
Screengrab of NTSA online portal.
Twitter
NTSA
Source: kENYANS.CO.KE