Immediate former Cabinet Secretary for Gender and Public Service Margaret Kobia was on Wednesday, November 30 feted by leaders for her role in enhancing and promoting women's agenda.
Prof Kobia was unanimously voted for by women from the Gender Equality and Women's Empowerment Programme for her efforts in recognising and honouring women's service in the country.
The trailblazers' programme was launched in 2018 by former president Uhuru Kenyatta with the aim of identifying and rewarding women leaders who have made a substantial contribution to Kenya's political economy.
Former Kitui governor Charity Ngilu congratulated Kobia and thanked her for mentoring her career.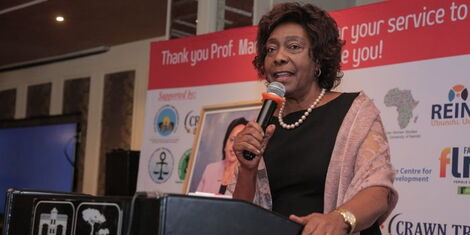 Former Kitui Governor Charity Ngilu addressing the event on Wednesday, November 30, 2022.
Twitter
Wee_hub
"I really want you to know how much I appreciate you in my life, thank you for mentoring me," she stated.
Her counterpart, the Permanent Secretary for Public Service Mary Kimonia asserted that they have achieved much in the ministry and that the effects will be felt progressively. 
Kobia commended the eminent Women for their foresight, struggle and resilience which led to the realization of gender equality and women empowerment in the country.
She reiterated that it was important to recognize women who have worked exemplary for the country.
During her tenure as Cabinet Secretary, she guided National Policy for the Eradication of Female Genital Mutilation (FGM) launched in 2019, she successfully oversaw the acceleration of efforts toward ending the harmful cultural practice in 22 FGM hot spot counties.
Through her efforts, Kenya managed to sign a declaration to end cross-border FGM with four neighbouring countries namely Uganda, Tanzania, Ethiopia and Somalia.
Kobia equally played a key role in strengthening partnerships with counties to establish Sexual and Gender-Based Violence (SGBV) centres in all public health facilities.
Her biggest win in service was when her ministry streamlined operations of the Women Enterprise Fund and Uwezo Fund, enabling women, youth and persons with disabilities to access a combined amount of Ksh26 billion by December 2019.
The award has seen prominent women leaders recognised with the Presidential Trailblazers Award. They included Mama Ida Odinga, Phoebe Asiyo, Maria Nzomo, Leah Maragu, Wanjiku Kabira and Mary Okello among others.
In 2019, Prof Kobia was honoured by a University in Illinois State, U.S, for her role in public service leadership and in institutional and academic research in Kenya.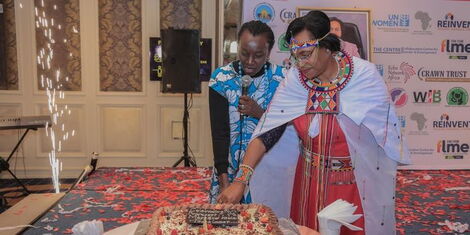 Professor Kobia cutting cake during the event on Wednesday, November 30, 2022.
Twitter
Wee_hub
Source: kENYANS.CO.KE