Kirinyaga gubernatorial independent candidate Wangui Ngirici's husband, Andrew Ngirici, caused a stir after blocking a county government vehicle suspected of ferrying election materials.

Ngirici was called by his wife's supporter who had blocked the vehicle suspecting that it was ferrying election materials to an unknown location in Gichugu constituency, Kirinyaga county.

In a video seen by Kenyans.co.ke, the vehicle was transporting a number of cartons that had been concealed using a canvas cover and is reported to have been headed to a tallying centre.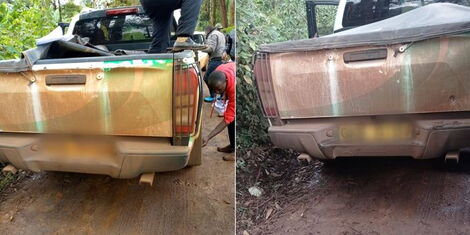 A vehicle with government plates blocked while ferrying election materials.
Witnesses claimed that the election materials were being ferried in a different vehicle before being transferred to the government vehicle.
Ngirici's husband and her supporters blocked the vehicle and took custody of the alleged election materials.
Police took the vehicle's driver into custody for questioning and to protect him from the crowd that was baying for his blood.
Earlier, a scuffle ensued in Kirinyaga after Ngirici demanded a retallying of votes.
The Kirinyaga gubernatorial candidate and lawyer, Ndegwa Njiru, challenged the IEBC officials to conduct a retallying of votes before the gubernatorial results are announced.
The lawyer stated that Ngirici was within her rights to demand a retallying of results amid accusations of malpractice in the county which have not been officially confirmed by the IEBC or police.
Police tried to calm the situation as Ngirici and supporters of her opponents clashed during the scuffle.
On Wednesday, Kirinyaga Governor, Anne Mumbi Waiguru, raised alarm over what she termed as broad daylight election misconduct in the gubernatorial election.
In a statement, Governor Waiguru alleged that two stuffed ballot boxes were sneaked into a tallying centre during the vote counting process.
The United Democratic Alliance (UDA) candidate called for an immediate stoppage of the counting process until she was assured of a free, fair and verifiable process.
Elsewhere in South Imenti, Deputy Returning Officer Wamurathe Samwel and Presiding Officer Boniface Mwenda were arrested over claims of electoral malpractice. 
The Kionyo Presiding Officer was arrested for submitting forms late and the South Imenti Deputy Returning Officer was arrested for receiving the same forms. 
According to the Presiding Officer, he lacked the original document required for the submission of forms. Police took the two into custody as they conducted further investigations into their conduct.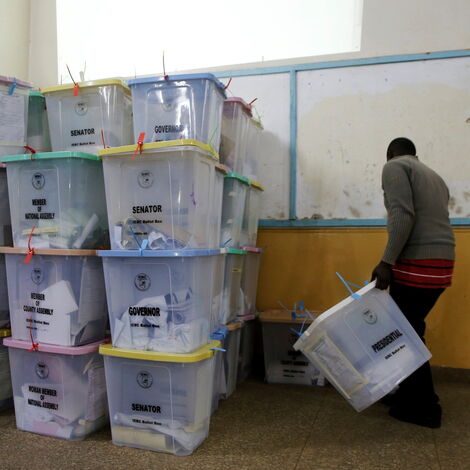 Undated image of IEBC ballot boxes after voters had cast their votes
Twitter
Source: kENYANS.CO.KE