President William Ruto's plan to review the Credit Reference Bureau (CRB) framework is in limbo after Central Bank of Kenya (CBK) governor, Patrick Njoroge, maintained the need to abide by the country's monetary policies.
Speaking during an interview with an international media house, Bloomberg, Njoroge explained that existing data from CBK will guide financial policies and expenditures for the next government.
The governor insisted that the data from CRB will help the country remain afloat and overcome recession waves. He thus ruled out being drawn into political expediencies. 
"The Central Bank will continue with policies it has always had regardless of the new administration that has come in. Good central bankers do their work based on data as opposed to political expediencies. You will see the Central Bank continuing along the same lines as before," Njoroge stated.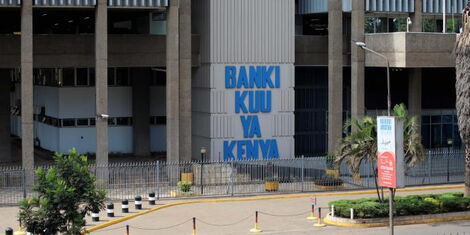 A file image of the Central Bank of Kenya in Nairobi.
File
Business Daily
He, however, explained that CBC Monetary Policy Committee was scheduled to meet next week to evaluate the data and chart a way forward regarding the country's economy. 
"We as MPC members will look at the data before us, both domestic and external data, look at the various things including projections on inflation and it's the data that will tell us what to do," he added.
Instead of responding to political financial promises, Njoroge insisted on the need to service the debt and protect CBK reserves from recession pressure. The governor noted that debt management was key to remaining afloat.
"Debt management is something that needs to be taken much more seriously given the narrowing space that we have seen in recent months," he stated.
"See what else we can do on refinancing whatever high-interest debt with low-interest debt, looking more towards concessional debt," he added.
Ruto promised to review the CRB framework and review the law to increase the limit of heavy cash transactions handled by banks without a requirement for reporting from the current Ksh1 million.
"We shall take measures to drive down the cost of credit. Our starting point is to shift the CRB framework from its current practice of arbitrary, punitive and all-or-nothing blacklisting of borrowers, which denies borrowers credit.
"We will work with CRBs on a new system of credit score rating that provides borrowers with an opportunity to manage their creditworthiness. This will eliminate blacklisting," Ruto stated.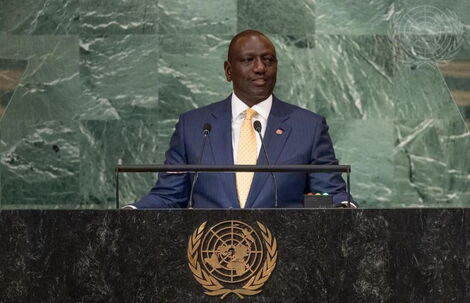 President William Ruto makes his speech during the 77th session of the UN General Assembly in New York, US on September 21, 2022.
Twitter
William Ruto
The President further explained that reviewing the laws would encourage entrepreneurship in the country and develop prospects for Small and Medium Enterprises (SMEs).
However, this will not be the first time CBK refused to bow to political directives on the country's financial policies. Former President Uhuru Kenyatta faced a similar backlash when he directed CBK to raise the heavy cash transactions limit from Ksh1 million to Ksh5 million.
Source: kENYANS.CO.KE