Mombasa governor Abdulswamad Sherrif Nassir has appointed Chibanzi Mwachonda as the chairperson of the health task force in the county.
Mwachonda made a comeback after he was fired by the former governor Ali Hassan Joho alongside 86 other striking doctors for failing to return to their duties in January 2021. 
"Executive Order No. 1 of 2022 establishes a task force on the State of Finances of the Mombasa County Government and shall be chaired by Mr Mahmoud Noor. 
"While Executive Order No. 2 of 2022 establishes a Taskforce on Healthcare Systems in Mombasa County and shall be chaired by Dr Chibanzi Mwachonda," Abdulswamad announced.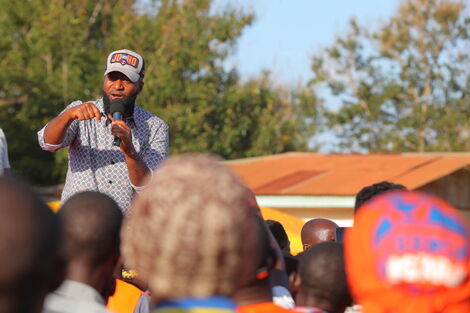 Mombasa Governor Hassan Joho speaking at a rally in Malindi on May 26, 2022.
Courtesy Hassan Joho
The former Kenya Medical Practitioners, Pharmacists and Dentists Union (KMPDU) boss, warmly received the appointment.
"Thank you for the opportunity to serve and lay the foundation for the quality healthcare services delivery to the residents of Mombasa County," the doctor remarked.
In the executive orders announced by Abdulswamad on Thursday, September 22, the task force must submit a detailed report with recommendations within 30 days.
In 2021, Mwachonda led other medical practitioners in the county to go on strike citing poor working conditions.
"All Kenyans have been affected by the pandemic. Not to downplay the great work they have been doing because they are at more risk than other workers, but now is not the time to go on strike, " Health Cabinet Secretary Mutahi Kagwe had warned.
Despite the strike being called off, some doctors failed to return to work.
"Kindly ensure the above doctors receive their letters and immediately hand over all the properties belonging to the County Government to their supervisors.
"Update us on the progress of the dissemination of the letters, handover, and staff return for each facility," read the notice from the Mombasa County Public Service Board secretary Jeizun Faruk.
Mombasa governor, Abdulswamad Nassir, pledged to resolve health issues in the county and also prioritise the working environment for medical practitioners.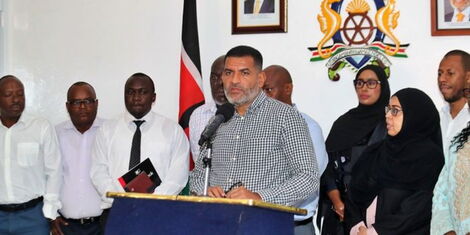 Mombasa county governor Abdulswamad Sheriff Nassir and other county officials on Thursday, September 22, 2022
Twitter
Source: kENYANS.CO.KE